Designing storage spaces with IKEA
When it comes to designing storage spaces, IKEA is the first place I look. I know that custom is always a great option, but most people either cannot afford or are not willing to stomach the price of custom storage solutions. Nobody wants to invest thousands of dollars on spaces that nobody sees. However, if you're not a minimalist, then you've probably accumulated many things over the years. If you're not ready to take the plunge into being a minimalist, then you'll want to have a storage system to find a place for all of your things so they don't take over your life. Yes, many things do bring people joy. While IKEA has several storage systems available for all of the things, my favourite system has to be the PAX wardrobe. When I look to design any bedroom - I often start by thinking, does it make sense to add a PAX wardrobe in this space? Here are three reasons why everyone should consider using PAX wardrobes in their spaces (including outside of the bedroom).
1. Affordable, versatile, sustainable.
Compared to custom closets and alternatives, like IKEA's Sektion Kitchen line, PAX wardrobes are surprisingly affordable and have a range of options that can be used outside of storing clothing. If you stick to basic white (which is a design staple), you'll find you can design a very nice system to suit your needs on a pretty low budget. The closets come in 50 cm, 75cm, and 100 cm widths and standard 12" and 24" depths. [Yes, going back and forth between metric and imperial measuring is super confusing but IKEA forces us to think in metric terms and I have a hard time getting away from standards like 24" deep closets. Plus 100 cm is easier to say than 39.37".] As your storage needs shift over the years, you can change the inside organizers to match the transitions in your life - giving your PAX wardrobe a good long lifetime. You can even change the doors for a new style. This is what makes these wardrobes a sustainable purchase.
2. Get the custom, built-in look for the IKEA price.
Though I love IKEA, its often associated with college life and cheap furnishings. Most people who are renovating are often trying to move their life OUT of the IKEA phase. However, the other thing IKEA is known for are affordable designs which tend to be smart and easy to apply. Adding things like custom hardware and filler pieces can make IKEA Pax wardrobes look like custom cabinetry and everyone will be shocked when you tell them its from IKEA! We have used them in so many projects and planned walls around IKEA sizes to make them fit perfectly.
For hardware, my favourite spots to shop are Lee Valley, Preston Hardware (local to Ottawa), and design shops like CB2, Schoolhouse, and Rejuvenation. Try to think outside of the box when you are considering what kind of hardware you want. For example, in this project, we used IKEA handles designed for the kitchen and rotated them sideways to get a modern retro look. Size is important! We tend to choose either oversized or undersized hardware for our wardrobes. 7" handles seem out of place for these oversized doors.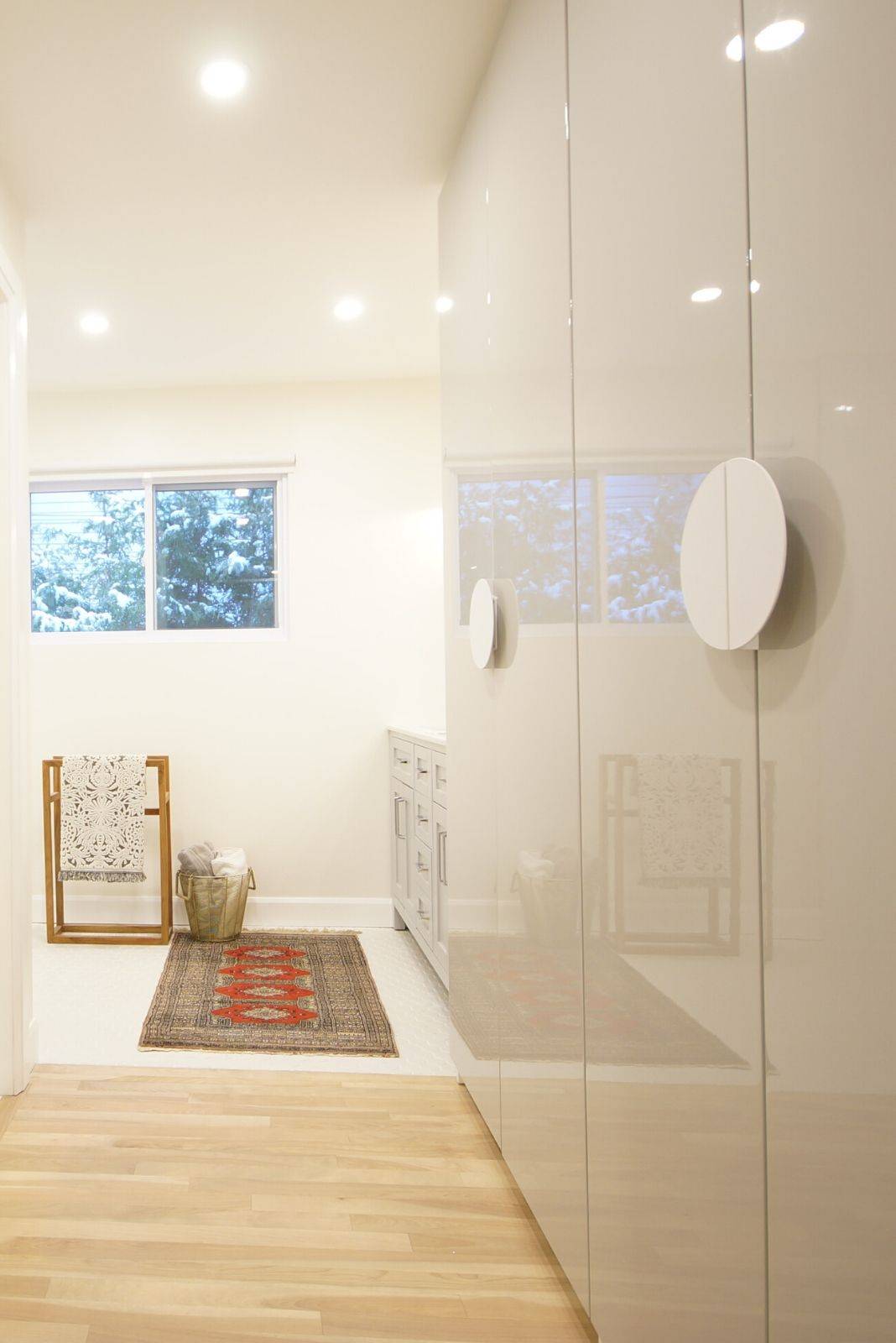 IKEA FARDAL doors and IKEA Tosterup Handle (discontinued). Design: WISEMAN + CROMWELL. Rug: WISEMAN + CROMWELL SHOP. Accessories: Target and Homesense. Vanity: OVE Decors. Build: Three six five Developments
Here are some more examples of PAX + custom hardware from our past projects.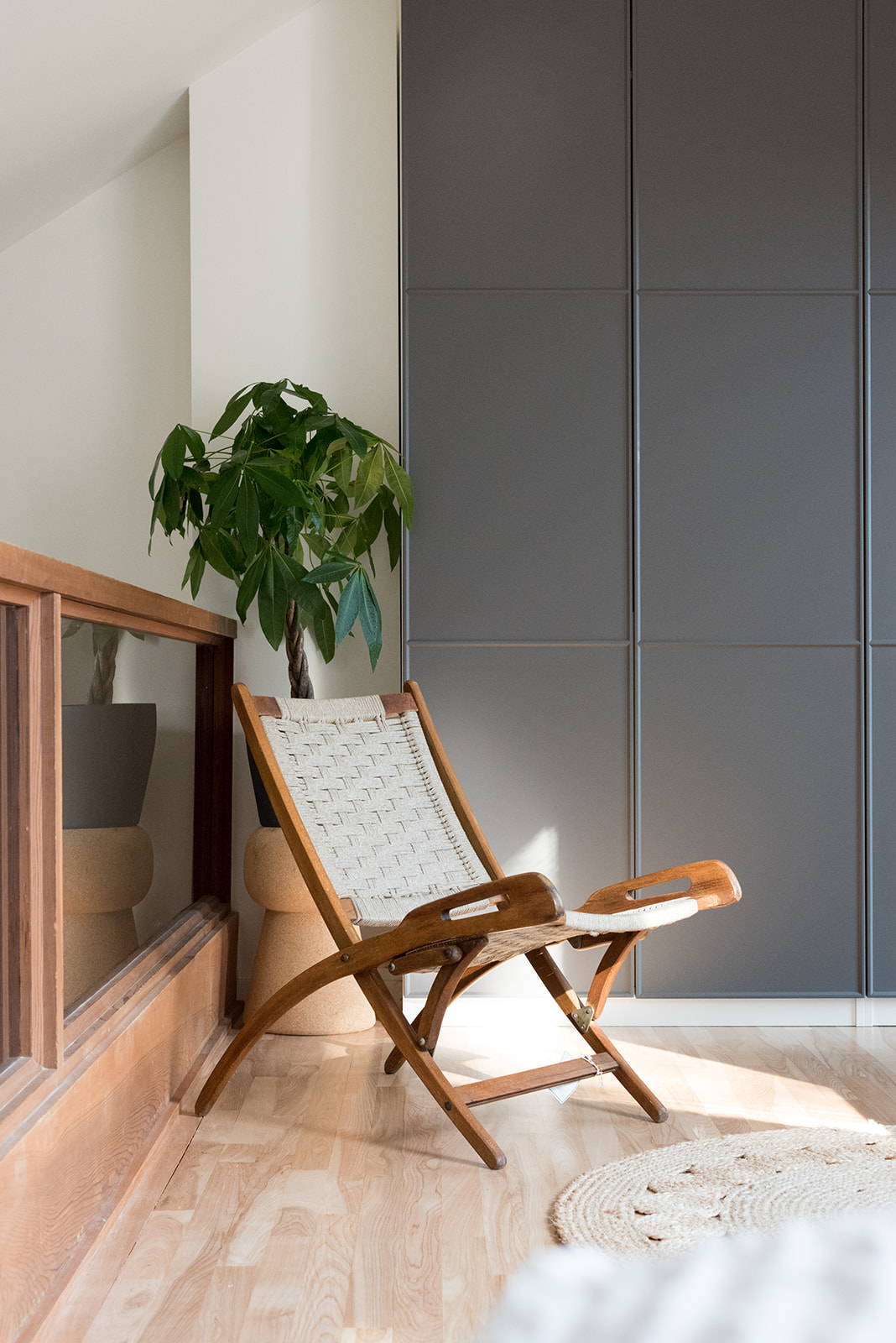 IKEA MERAKER doors. Design: WISEMAN + CROMWELL. Rug: Simons. Chair: WISEMAN + CROMWELL SHOP.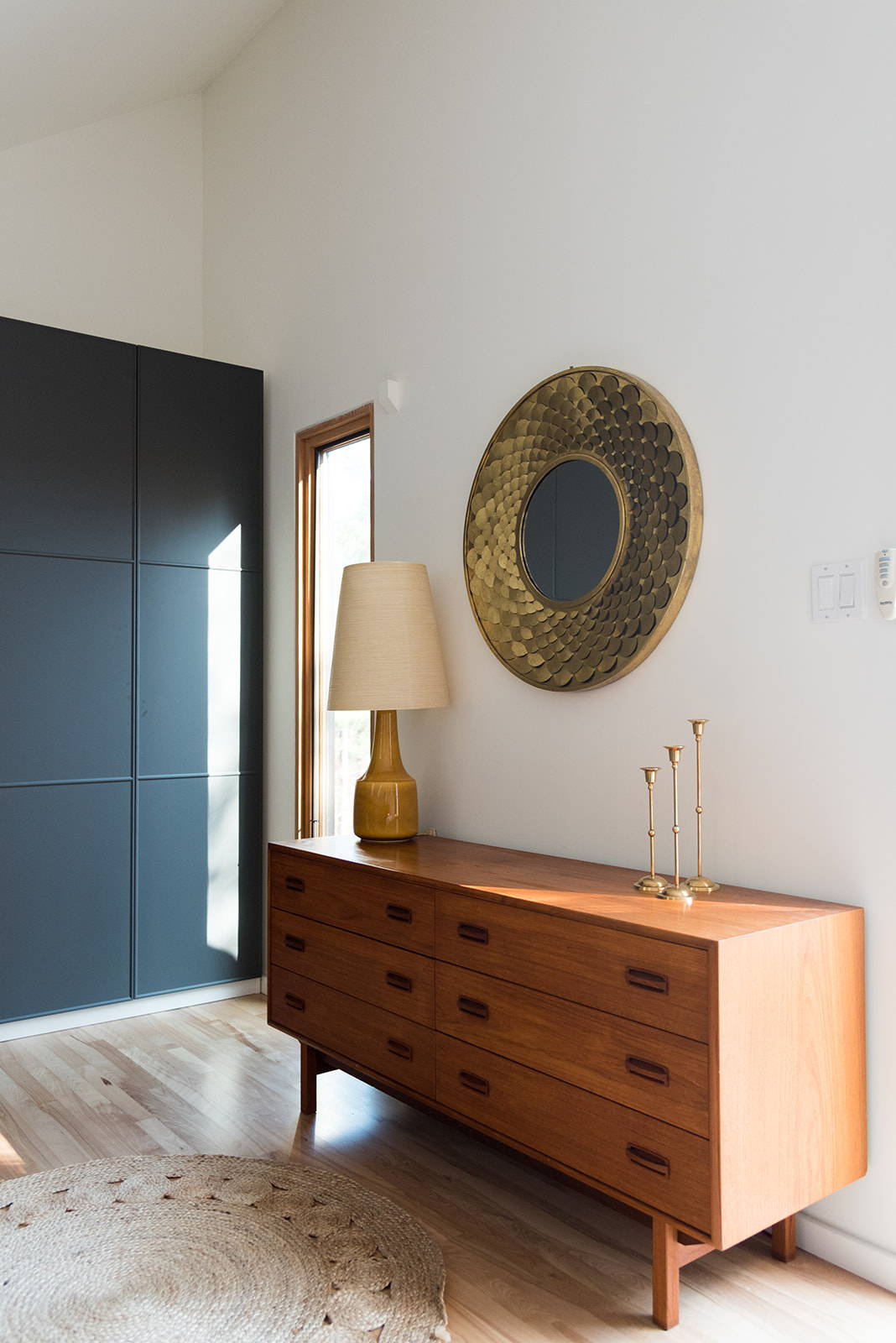 IKEA MERAKER doors. Design: WISEMAN + CROMWELL. Rug: Simons. Dresser, Lotte lamp, Candle holders (all vintage): WISEMAN + CROMWELL SHOP. Mirror: Homesense.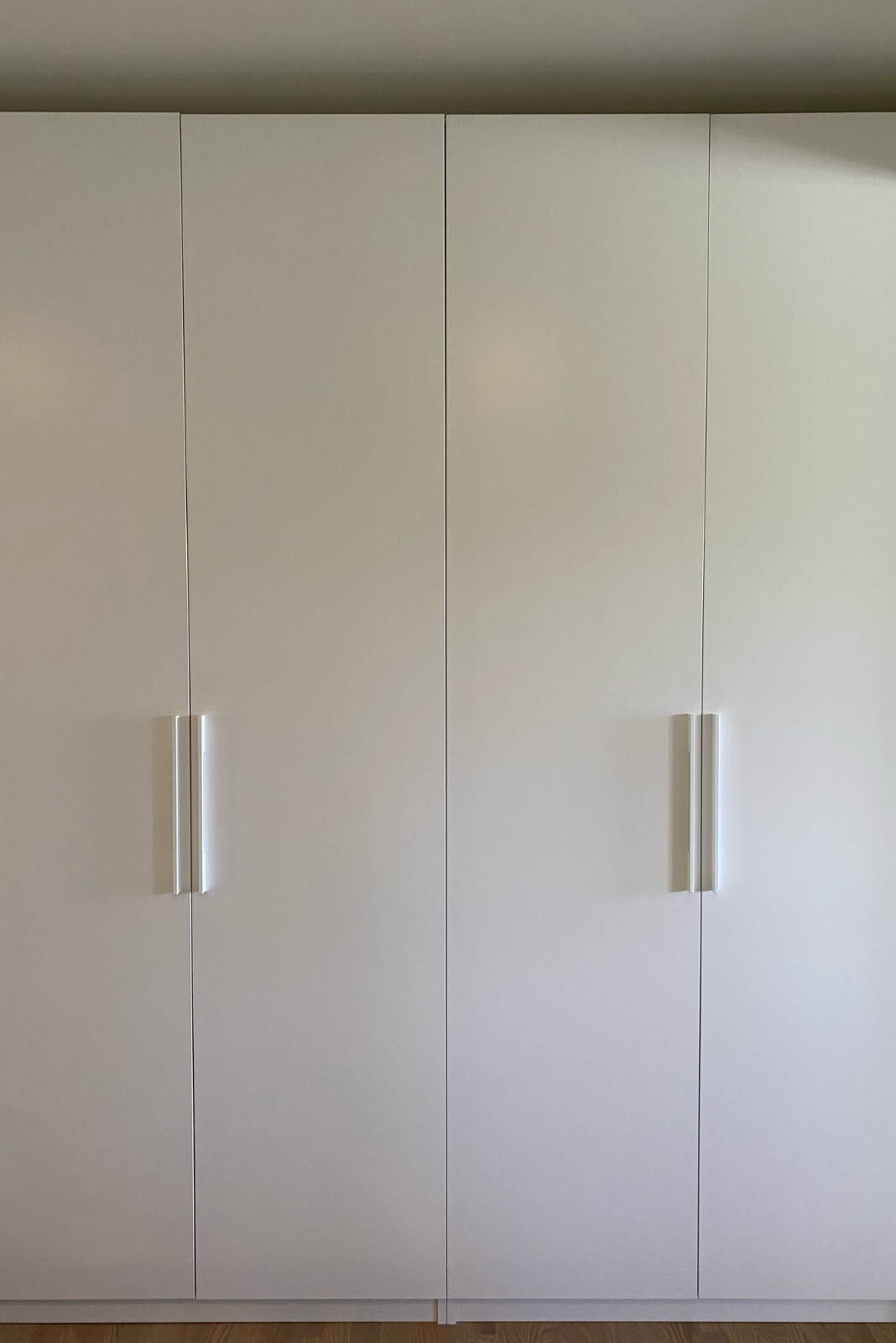 ---
3. Bigger is not always better.
Many people assume that they need more storage so they will knock down a wall and take over a second bedroom. For older homes this might just be necessary as they tend to have tiny closets. However, sometimes all you need is smarter storage. When you purchase the taller version of PAX, you immediately gain vertical space that most traditional closets don't have. Put your hanging racks up as high as you can reach so that you have more space underneath for drawers and shoe storage. Leave an "unreachable" space up at the top to store items you rarely need or off-season pieces.
Ready to start planning? Head over to IKEA's Pax Planner to start planning your new storage space. For inspiration check out our Pinterest page.
Not ready to do this on your own? Check out our design services page for information on the kinds of design services we can provide. We can help you design your wardrobe through hourly consultations in person or online. If you are doing a renovation we suggest you consider hiring us to build you a design plan or provide a full service design plan for your project. For more info contact us at info@wisemanandcromwell.com.
Here are a few examples of our favourite hardware matches for PAX Doors.